Our 6 Part Grooming Process
1. Intake and Consulting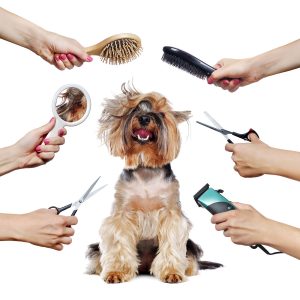 Your service starts with our professional assessment of your dog's skin and coat condition. Your groomer will discuss your wishes and her recommendations. You and your groomer will arrive at the grooming option best suited for your pet.
2. Pre-work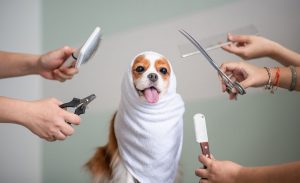 After a gentle stroll to our 100% cage-free mobile spa or our Spa's play area , our groomer will, depending on options selected, clean your dog's ears, trim the sanitary areas, trim the pads and perform selected nail care.
3. Luxurious Bath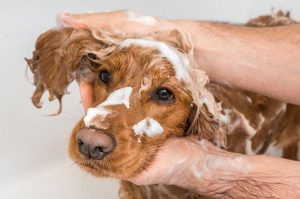 After placing your dog in our oversized tub, we apply an all natural, biodegradable shampoo and thoroughly massage the coat, rinse and repeat. We use a parabens-free product that helps relieve itching and dander.
4. Towel and Blow Dry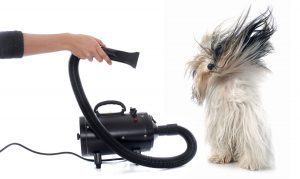 Dry coat is essential for a good hair cut. The drying process starts with a gentle towel to dry the face and body. Our mobile spa is equipped with state of the art blow drying facilities that reduce noise and discomfort. No blow-dry would be complete without a brush out.
5. Hair Cut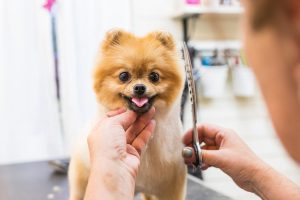 Our groomer will recommend a breed appropriate haircut that will maximize your pet's health and comfort while maintaining the look you desire. We practice HUMANITY BEFORE VANITY and our main concern is always what is best for your dog.
6. Extras and Departure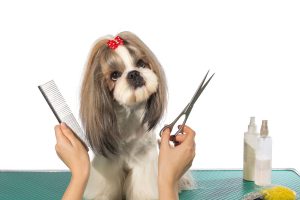 All good things must come to an end. Before departure, we will perform any extras that are part of your grooming package, apply perfume, bandana and an organic treat with your permission.
Clean Dog 
Luxury bath, blow-dry, brush, anal glands, nail trim, ear cleaning, and scented spritz (Does not include Haircut). Available in the salon or mobile.
MovieStar Makeover
Clean Dog package, PLUS cut and style to breed-specific standard. Available in the salon or mobile
Quick Bath
Revitalizing bath with your choice of shampoos, and blow-dry. Only available in the salon.
Dry Spa

Nail trimming, ear cleaning & plucking, teeth brushing (No bath). Only available in the salon.
Ruff Pricing (See Menus below for complete list)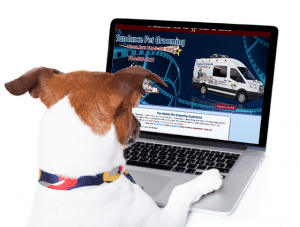 New:  10% Off Your Next Appointment When you Re-Book and Arrive to your Next Appointment up to 6 Weeks from your Current Appointment. 
New Pricing will be in effect starting May 1, 2023 
The prices below depend upon size of the dog, breed, condition of the coat, temperament and haircut style desired.  We strive to keep your prices as low as possible while providing exemplary service.  You will receive a fully itemized invoice from our APP and our groomer is there to answer any questions you may have.  We are unique in being the only brick and mortar salon and mobile service available in the area and are looking for customers for life for all your dog grooming needs.      
 No Show Policy:  Sundance Pet Grooming strives to accommodate your schedule and we understand that life happens.  If you need to reschedule your appointment for personal reasons, please call us and we will be happy to work with you to reschedule.  We do ask that you call us as soon as you know that you will miss your appointment so that we can give your timeslot to another doggie client.  No Call/No Show clients may be charged a $50 no-show fee and/or may not be offered future appointments.       
Special Handling Fee: $10-$35:  If a dog is excessively difficult to handle, can't stand, and/or tries to bite, this charge may be added based on the additional time required to groom the dog.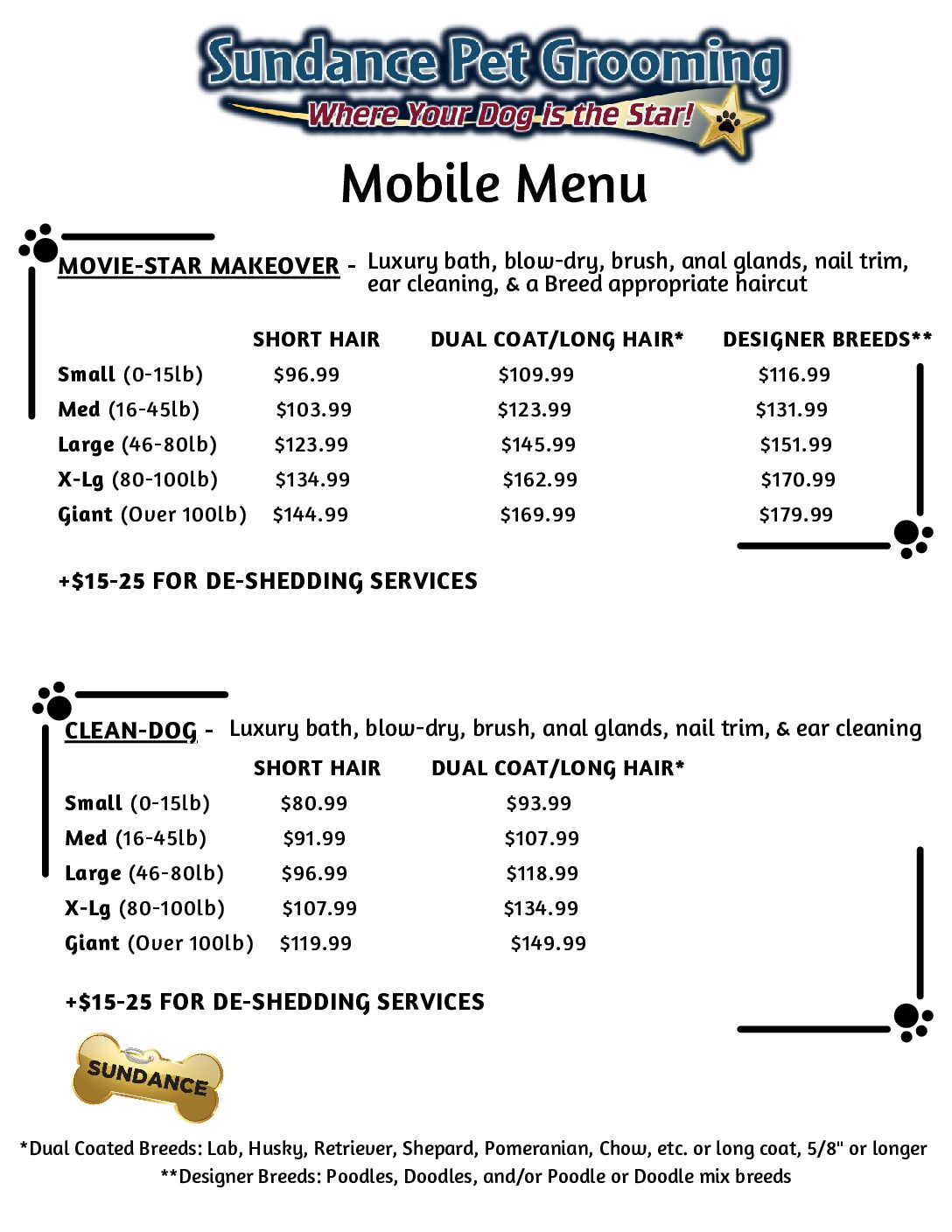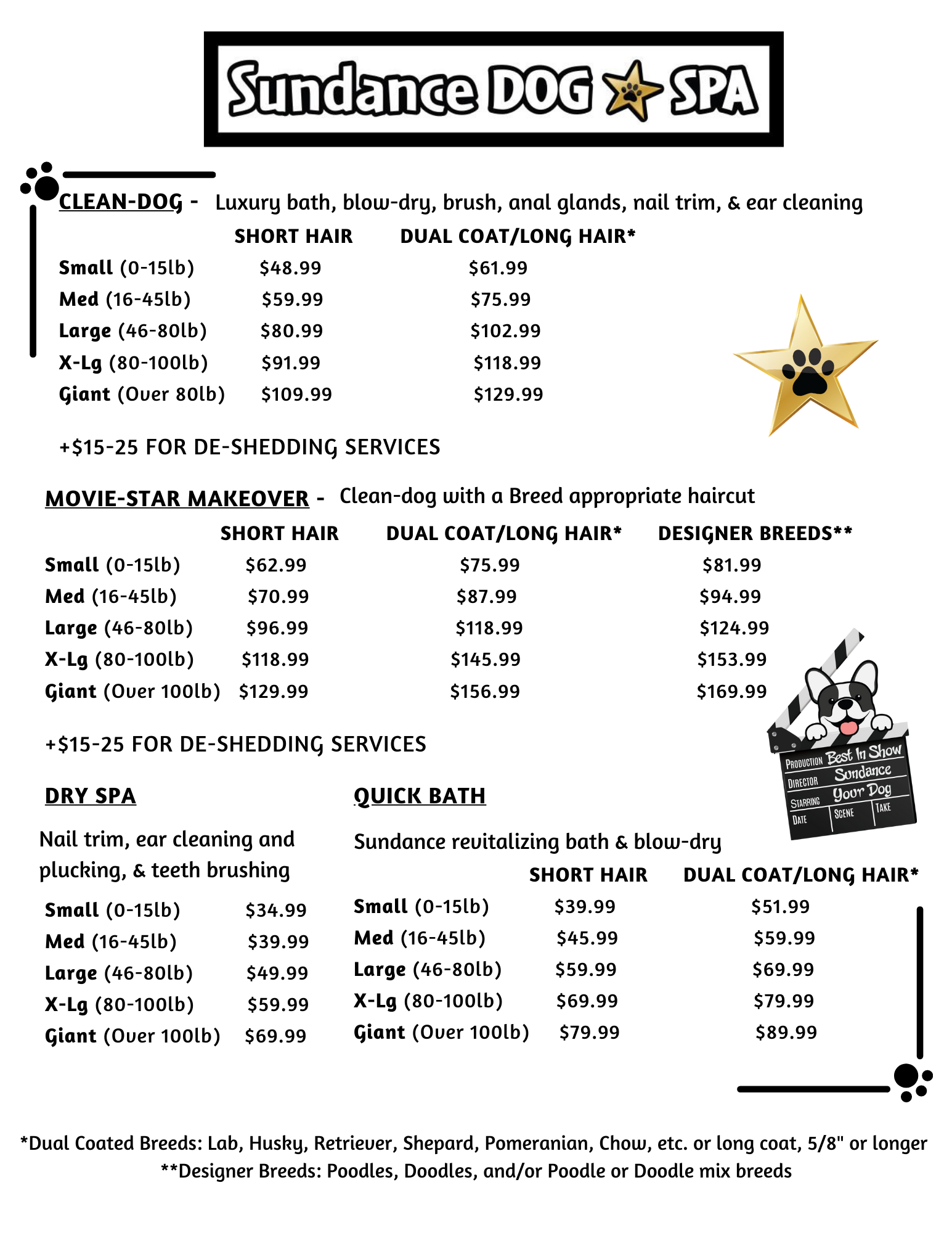 VIP (Very Important Pooch)- Nail buffing, Teeth Brushing, Premium Shampoo – $28
Pick 3 Package – Choose any three add-ons (excluding de-matting) – $30
VIP + FP&F – VIP pack + Face, Paws, & Fanny Trim – $39
*Included in Movie-Star Makeover
Nail Filing/Buffing
$15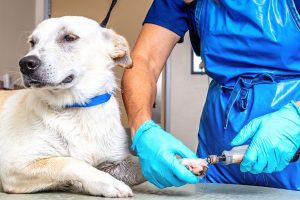 Teeth Brushing 
$12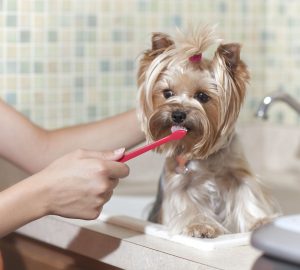 Ear Cleaning*
$15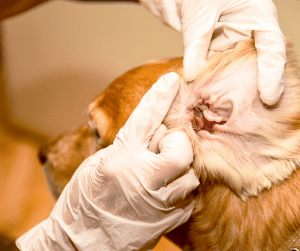 Anal Gland Expression*
$15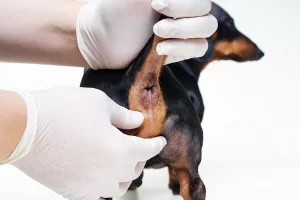 Furminator Deshedding
$15-25
De-Matting
Price based on dog size and coat condition $10-40 (See description above)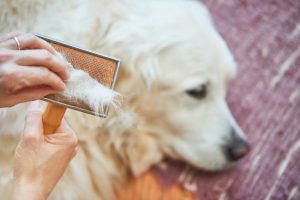 Nail Trimming*
$15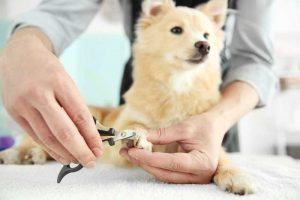 Paw Balm $10
Nail Polish $15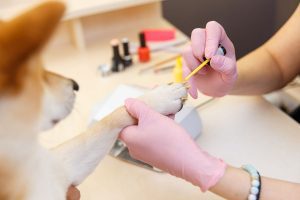 Face Feet & Fanny Trim* 
$15
Eye Stain Cleaning
$10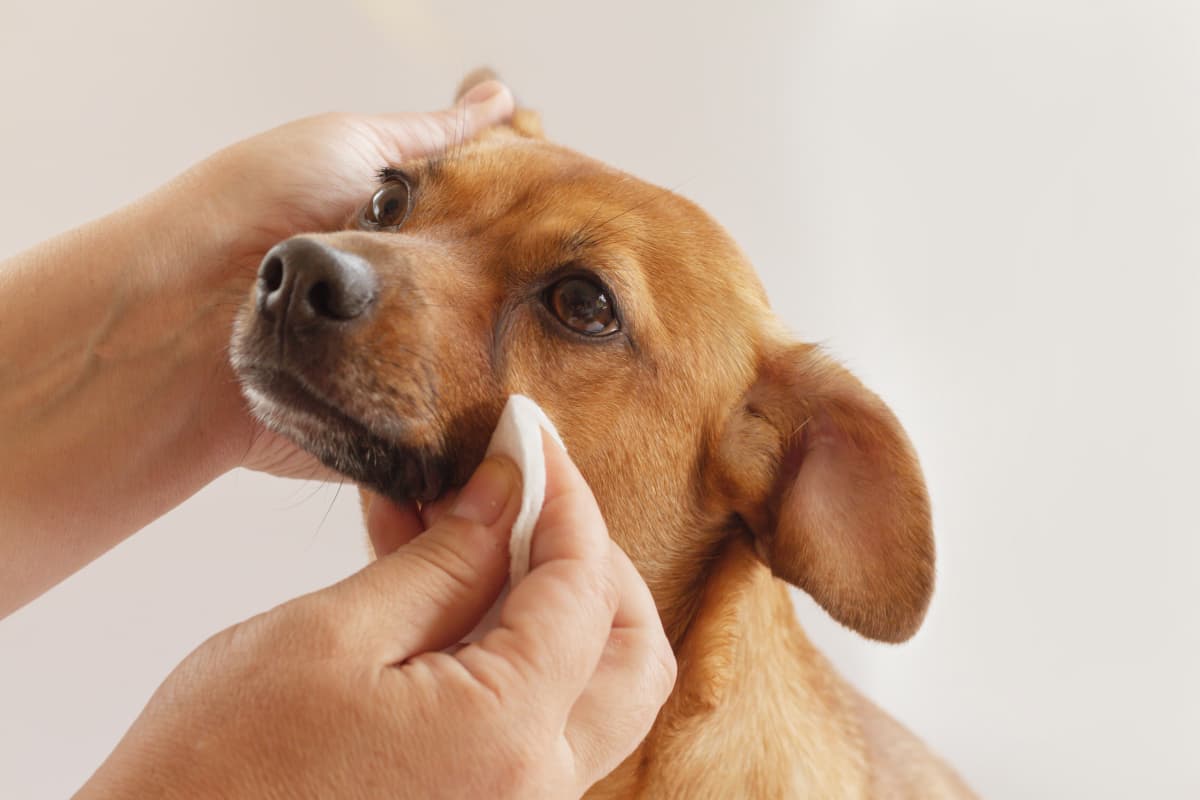 De-skunking
Price based on dog size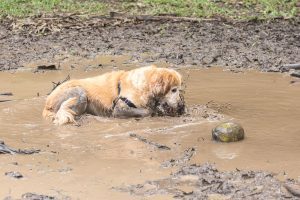 Emergency Services

Fido decided to chase a skunk or immerse itself in a mud bath or an oily puddle? Stuck with a stinky, disgusting dog you cannot let back into your house?
Call us anytime 7am-9pm, 7 days a week, for emergency service
*$60 minimum trip charge will apply in addition to the cost of the service.


What is a Mat?
When seen under a microscope, a single dog hair shaft looks much like a single sprig from a briar brush with little horns. Some coat types get matted and tangled easier than others because their hair shafts have more spurs. Mats are created when numerous course guard hairs crisscross one another, while the finer under coat is still firmly attached to the skin. Factors that cause matting are dirt, static, moisture, friction or compression. Generally, a good bath with our professional shampoo, our high velocity dryer and a thorough brush out will detangle a well maintained coat without significant discomfort. If, during our initial consultation or after the bath our groomer discovers matts that in her opinion will cause pain to your dog, our groomer will notify you and will recommend shaving the coat. Most pets will react to pain in a similar fashion as a two-year-old child. Here at Sundance Pet Grooming we always put humanity before vanity and will not de-matt a very matted dog. We may agree to light de-matting if the mats are of the type, or are in areas that our groomer believes will not cause significant discomfort to your dog.
De-Matting Fee ($10-$40, depending on coat and size–Fee is approximately $1 per minute):  De-Matting fee is charged when your dog has excessive matts that require groomer time above and beyond what a standard breed appropriate grooming would usually take.  Excessive matts, even when shaved, require slow and careful attention, elevate the risk of nicks, cuts, and matt burns and significantly extend the grooming time.  Most breeds that have hair that matts require grooming every 4-6 weeks in addition to brushing between appointments in order to avoid excessive matting.  Clients that do not maintain their dogs on a grooming schedule will be charged de-matting fee if their dogs are excessively matted.  While your groomer will attempt to let you know if your dog has excessive matts, sometimes the extent of the dog's matts becomes apparent during the bathing or the grooming process and the charge will appear on your invoice at checkout.  Note that if your dog is not well maintained with brushing and grooming and had their last grooming done significantly in excess of 4-6 weeks before your current appointment, de-matting fee should be expected.  Groomers are paid for the dogs they groom–this fee is there to compensate your groomer for the extra time, care and attention she or he afford your dog.